Archive for March, 2010:

HeSCA's newsletter, Feedback (Volume 36) has been posted.

Subscribe to the comments for this post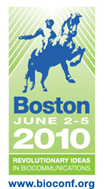 Registration for the 2010 combined meeting of the BioCommunications Association, Association of Biomedical Directors and the Health and Science Communications Association is now open.
The Registration Form can be downloaded here.
Please register for this exciting event before May 7, 2010 for the best rate.

Subscribe to the comments for this post