Archive for March, 2012:

Download Feedback, HeSCA's newsletter:

Subscribe to the comments for this post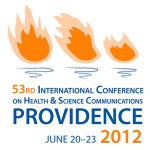 Registration for HeSCA's 2012 annual conference, Reflections & Connections, is now open.
HeSCA meetings are known for their mix of presentations on state-of-the-art issues in health and science communications mixed with just the right amount of networking activities.  This year is no exception.
Presentations will focus around these three themes:
It's a Social World

Managing for Success

Creativity in Communications
More information about the conference can be found here.
Please register before May 25 for the best rate.

Subscribe to the comments for this post