Archive for July, 2009: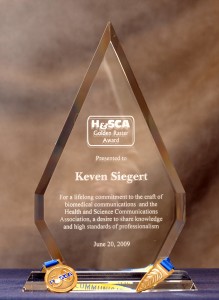 ST.  LOUIS – Keven Siegert, director of media services for The University of Arizona College of Medicine – Phoenix in partnership with Arizona State University, didn't even realize he was eligible for a "lifetime achievement" award.
"This seems too early in my career to be honored with an award like this, but I'm thrilled!" said Siegert, who has been with the University of Arizona for more than 20 years. "I was incredibly lucky to work alongside and learn from important leaders in the field."
Siegert recently picked up the Health and Science Communications Association's "Golden Raster Award," a distinction the group calls its most prestigious honor – representing the culmination of distinguished service and achievement in the industry.
"Keven is an invaluable member of our team," said Stuart Flynn, MD, dean of the College of Medicine – Phoenix. "He has been instrumental in the development of the state-of-the-art technology we use on campus and has been critical in how we communicate with our internal and external audiences."
In announcing the award – won by Rick McNeely, director of Biomedical Communications at the UA's Arizona Health Sciences Center in Tucson in 2000 – the association says it is recognizing contributions "which such individuals have made as leaders and innovators in the field of health science education and instructional technology."
Previous Golden Raster award winner Arlyn Bonfield from Biomedical Media in Boston presented Siegert with the award, quoting Jamie Guth as saying, "Keven has this magical combination of playfulness and a serious commitment to art and craft."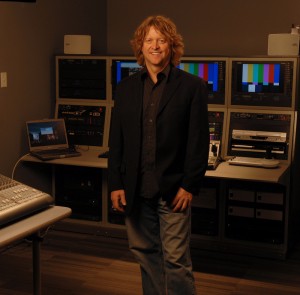 "Keven has consistently shown his amazing ability to tell a story with pictures or video, no matter the medium," said McNeely. "With such skills he's been a valuable member of the UA team and nationally, as this honor reflects, his creative skills are well known and respected."
The Golden Raster Award was established in 1967 and has only been awarded 18 times previously in its 50-year history. As a "raster" provides stability and form to the electronic image so the "Golden Raster" recognizes those individuals who have provided stability and inspiration to the association through imaginative leadership and unswerving service, according to the association.
Siegert graduated from Iowa State University with a degree in communications and immediately entered the field of biomedical communications, working first at Iowa State's College of Veterinary Medicine, then University of Arizona College of Medicine. He eventually took a position at Dartmouth College, producing the nationally syndicated PBS series, "The Doctor Is In" before moving back to Arizona to help build the new UA Medical School in Phoenix.
Siegert is a past president and current webmaster of HeSCA and has served on the Board of Directors for many years. He is a member of the Editorial Board for the Journal of Visual Communication in Medicine and has published several articles in the field.
Siegert Golden Raster Press Release
Video of the Presentation (Part One)
Video of the Presentation (Part Two)


Subscribe to the comments for this post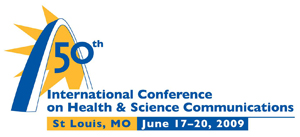 Thank you to all who participated in the 50th International Conference on Health & Science Communications. This meeting commemorated 5o years of excellence in the field of communication serving both the health and science arena. A special thank you to all of our international attendees – we really appreciate the time, effort and expense it takes to attend one of these conferences from abroad.
Please continue to check the conference website for links to photos and PRESENTATIONS from the conference!

Subscribe to the comments for this post