Archive for October, 2010:
The Vesalius Trust for Visual Communication in the Health Sciences is accepting applications for the 2011 Dr. Frank H. Netter Award for Special Contributions to Medical Education.
The Dr. Frank H. Netter Award is given annually to an individual, institution or company in recognition of the development of visually oriented educational materials that have made a significant contribution to the advancement of education and research in the health sciences. There is no application fee. The award includes a plaque and monetary award of US$1,000. Past winners have made innovative contributions in healthcare education including anatomical models, books, simulators, videos, and interactive learning materials.
The recipient of the 2010 award is Emmi Solutions, LLC. This company has produced over 130 multimedia online patient education programs. The training modules are prescribed to patients to help them prepare for procedures, make informed decisions about their healthcare and learn about health conditions. Information about Emmi programs is available on their website: www.emmisolutions.com
Anyone interested in applying for this prestigious award can get an application and additional information on the Vesalius Trust Web site.
http://vesaliustrust.org/scholarships.html#Netter
Application deadline for the 2011 award is December 11, 2010.
For additional information, contact Linda Warren at [email protected]

Subscribe to the comments for this post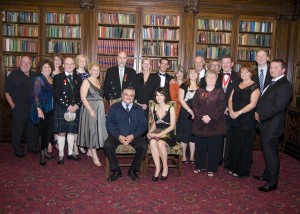 Congratulations to Ray Aldrete and Lindsey Searle (seated), the 2010 IMI/HeSCA Exchange winners at the recent IMI meeting in Crewe, England.  They are surrounded by delegates who have attended past HeSCA meetings.

Subscribe to the comments for this post