Archive for October, 2009:
The Vesalius Trust for Visual Communication in the Health Sciences is accepting applications for the 2010 Dr. Frank H. Netter Award for Special Contributions to Medical Education.
An example of an award winning entry is the PROMPT Birthing Simulator designed and manufactured by Limbs and Things in Bristol, England. This effective training device has demonstrated its ability to reduce clinician errors that lead to injury during childbirth. Additional information about this simulator is available on the 2009 Netter Award Winner link on the Vesalius Trust website.
The Dr. Frank H. Netter Award is given annually to an individual, institution or company in recognition of the development of visually oriented educational materials that have made a significant contribution to the advancement of education and research in the health sciences. There is no application fee. The award includes a plaque and monetary award of US$1,000. Past winners have made innovative contributions in healthcare education including anatomical models, books, simulators, videos, and interactive learning materials.
Anyone interested in applying for this prestigious award can get an application and additional information on the Vesalius Trust Web site.
Application deadline for the 2010 award is December 4, 2009.
For additional information, contact Linda Warren at [email protected].

Subscribe to the comments for this post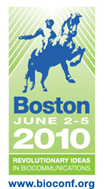 Revolutionary Ideas in BioCommunications – The 2010 Joint Annual Meeting of the BioCommunications Association,  Association of Biomedical Communications Directors and the Health and Science Communications Association!
The meeting will be held June 2-5, 2010 with a possible full day photography workshop on Sunday, June 6th.
Please download the Call for Papers and consider presenting at this conference!
Abstract submission deadline is November 30, 2009.

Subscribe to the comments for this post